Human Rights Heroes to Unite for 10th Geneva Summit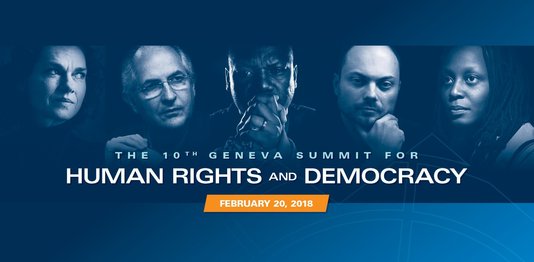 GENEVA, December 19, 2017– An international coalition of 25 human rights organizations announced today that it will hold its 10th annual gathering of human rights dissidents on Tuesday, February 20, 2018, at the Geneva International Conference Center.
The 2018 Geneva Summit for Human Rights and Democracy will hold its opening session at the Palace of Nations, the European headquarters of the United Nations.
The renowned Geneva Summit for Human Rights assembles hundreds of courageous dissidents, human rights activists, diplomats, journalists and student leaders to shine a spotlight on urgent human rights situations that require global attention, from Syria to Venezuela, North Korea to Zimbabwe.
Strategically, the event will be held days before foreign ministers from around the world gather across the street for the annual opening of the UN Human Rights Council.
Last year's conference drew a standing-room only audience of more than 700 participants. International media coverage included more than 85 separate TV, radio and newspaper stories and interviews. The 2018 Summit is already slated to exceed last year's impact.
The remarkable lineup of speakers for 2018 includes:
• Antonio Ledezma – Mayor of Caracas, Venezuelan opposition leader, former political prisoner
• Asli Erdoğan -Turkish novelist, former political prisoner
• Farida Abbas Khalaf – Freed Yazidi ISIS slave, author of The Girl Who Beat ISIS
• Irwin Cotler – Former Canadian Minister of Justice and MP, advocate for political prisoners
• Kasha Jacqueline – Ugandan LGBT activist, founder of Freedom and Roam Uganda
• Luis Almagro – Secretary General of the Organization of American States, former Foreign Minister of Uruguay
• Rev. Evan Mawarire – Leading Zimbabwean opposition activist, acquitted in November 2016 on charges of trying to overthrow Robert Mugabe's government
• Vladimir Kara-Murza – Russian dissident, vice chairman of Open Russia
• William Browder – Hedge fund manager who lead successful campaign to adopt Magnitsky Act, a U.S. law sanctioning Russian oligarchs
• Wuilly Arteaga – Violinist who became a symbol of democracy protests in Venezuela
---
REGISTRATION: Click here to register now
NGO COALITION: CADAL• COLLECTIF URGENCE DARFOUR • DARFUR PEACE & DEVELOPMENT CENTER • DIRECTORIO DEMOCRATICO CUBANO • FORUM 2000• FREEDOM AND ROAM UGANDA • FREEDOM RIGHTS PROJECT • HUMAN RIGHTS FOUNDATION • HUMAN RIGHTS WITHOUT FRONTIERS • HUMAN RIGHTS ACTIVISTS IN IRAN • INGÉNIEURS DU MONDE • INICIATIVA POR VENEZUELA • INITIATIVES FOR CHINA • INTER-AFRICAN COMMITTEE ON TRADITIONAL PRACTICES • INTERNATIONAL FEDERATION OF LIBERAL YOUTH • LANTOS FOUNDATION FOR HUMAN RIGHTS • LIBERAL INTERNATIONAL • LIGUE INTERNATIONAL CONTRE LE RACISME • NORTH KOREA WATCH • STOP CHILD EXECUTIONS • RAOUL WALLENBERG CENTRE FOR HUMAN RIGHTS • TIBETAN WOMEN'S ASSOCIATION • WORLD UΥGHUR CONGRESS • UN WATCH • VIET TAN
###